A flexible cooler that fits quite a bit! I packed 3 Powerade. water. and snacks. I haven't tested the backpack part yet. but I know it will be super handy in the summer on our regular fishing trips! We will be getting another! Love this thing!
Verified Buyer
Finding the perfect spot to have a seat. enjoy the outdoors. and just unwind and relax isn't as easy as they make it in the movies. In outdoor sports games alone. bleachers and areas around the gate are usually packed. making it difficult to watch. During camping. the whole scenic seating on a log by the fire can also be challenging. Discover a portable stool that transforms any space into a perfect location.
Introducing StoolerPack. a 2-in-1 cooler backpack that transforms into a sturdy seat. Carry food. drinks. and other essentials in the backpack with ease. and unfold the X-structure for comfortable seating. Made with premium materials and finished with an extra cushion. the seat evenly distributes weight. Watch games. start a picnic. gather around the camping. and do just about anything fun under the sun.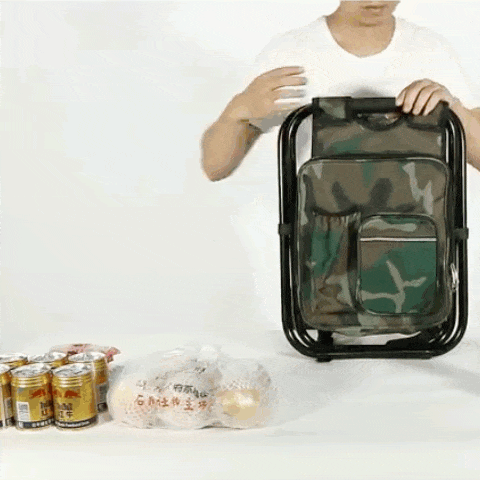 Why You Should Buy StoolerPack
ERGONOMIC PORTABILITY
Keep travel baggage lightweight and compact with the 2-in-1 outdoor gear that combines storage space and a chair. Fold the chair when not in use. and carry it.
COMFORT-FORWARD SEAT
The stool provides a seat for a hiking break and fatigue prevention. Its extra soft cushion and non-slip rubber. comfortably and evenly distribute weight.
LARGE CAPACITY COOLER
Its insulated lining keeps beers. sodas. energy drinks. and bottles of water cool while keeping meals warm. and ready for consumption. The additional exterior pockets can store small valuables.
SAFETY FIRST CONSTRUCTION
Made with an "X" structural design. its body is stable on soft and hard surfaces. and can handle the weight of children and adults. The structure helps reduce sitting-related accidents.
We understand that watching weekend children's pee wee football. soccer games. and other outdoor sports games or spending some alone time with friends in a camp can be tiresome. Standing under the sun for hours can cause fatigue and even fainting. In some cases. a combination of heat and exhaustion can lead to a heat stroke. A recent study shows that heat has been the leading cause of death among weather-related fatalities over the past 30 years.
Thankfully StoolerPack comes equipped with a mini cooler that keeps drinks refreshingly cold and stores favorite snacks. Hand out cool sports drinks and bottles of water for hydration. and combat heatwave and exhaustion. Perfect for camping. hiking. and fishing trips. the portable cooler has additional exterior pockets for other outdoor essentials including a towel and power banks. Safely enjoy every trip outdoors as a family.
Product Specification
Available colors: Camouflage. Green. Blue
Material: Oxford fabric & steel
Folding size: 19.5 x 14 x 1.2 inch
Display size: 14.56 x 11.41 x 16.53 inch
The Spotlight Shopper Promise
AtSpotlight Shopper.we believe in the quality of our products. Therefore. we offer a30 Days Money Back Guaranteewith no questions asked! When you purchase from us. there isZERORiskfor you!
Congratulations!
You've found a hidden discount code! Use code "SPOT10" at checkout to claim an additional10% OFFyourENTIRE order!