"I bought this set for my 3-years-old nephew to keep him occupied. and it did its job. The parts are made of thick plastic (not cheap or flimsy). It does take a bit of dexterity to put some of the pieces together. but it's not that difficult. He loved the little screwdriver! 4 different dinosaurs in the box make this a good deal. This is a good way to get kids interested in building models or puzzles in the future. I would recommend it as a rainy day activity!"
- Kayla C
Verified Buyer
These days. kids are using screens more than ever. When kids are stuck to screens. theymissopportunities to practice other essential skills. While toys are a tremendous screen-swap activity. experts said that toys with bright light. loud noise. do-it-all-already toys might hinder the child's development. It is critical to find an at-home activity to stimulate their interests and abilities.
Dino Pack is a take-apart dinosaur kit that requires kids to assemble dinosaurs using tools. teaching kids the basics of using screws and bolts through a fun. challenging experience. Using the tools to build up the dinosaurs improves a child'sfine motor skills. focus. and persistency. Ittriggers child's curiosity for the fantastic prehistoric world and effectively keeps them off the screen.
HowDino Pack Will Change Your Life
BOOST DEVELOPMENT: Using screwdrivers in building up dinosaurs engages all the senses.Dino Pack stimulates fine motor skills. problem-solving while encouraging focusand persistency. These hands-on experience helps boost the development of the kids. making them an excellent investment for the child's future.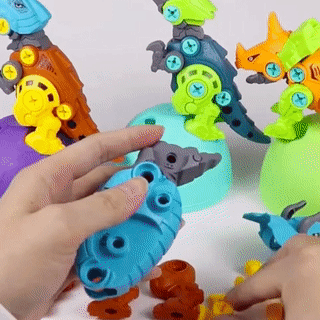 INSPIRES PASSION FOR NATURAL: Building the dinosaurs with Dino Pack triggers the curiosity of dino-related things like types of dinosaurs. their complex names. their features. and habitats. Thisexciting journey allows kids to discover a lifelong passion in natural worlds.
FOSTER IMAGINATIVE PLAY: Experts find that children who engage in imaginative play are more creative than those who do not. Dino Pack takes your kids back to a prehistoric time where dinosaurs roamed and stomped the earth. inspiring them to create a play in their imaginative dino world.
ENCOURAGES INTERACTION: Kids need to engage in social interaction earlier in life. Dino Pack promotes early teamwork experience for children. making it a perfect pick for siblings bonding time. The tremendous little creative minds cooperate to build up the dinosaurs and have a roar-some time together.
HOURS OF CREATIVE PLAYTIME: Building those majestic creatures with Dino Pack guarantees hours of educational fun and effectively keeps kids off thescreenan ultimate gift for dinosaur-obsessed children.
We understand the guilt of giving up screen time for children and how helpless we feel to know that it has detrimental effects on our kids' development. However. searching a child's interest in screen-swap activity can be frustrating. Oftentime we find our kids uninspired and bored. A study said an uninspired kid is related to a feeling that what they're learning isn't personally meaningful.
Thankfully. The Dino Pack helps kidsdiscover their passion for the natural world. Allows kids to have an initiative for self-learning the fantastic world of dinosaurs while also promoting development and interaction that benefits a child's future. O more mindless screen-swiping kids say hello to motivated natural-world-lover children!
Product Specification
Suitable for kids 3-years-old and up. adult supervision for younger children is required due to small parts.
Dino Pack includes plastic screwdrivers and a manual book. so kids can start playingimmediately after unboxing.
Each dinosaurs' body parts are interchangeable. allowing kids to be creative in building up a unique dinosaur of their own.
The tails. jaws. and legs of the assembled dinosaurs are movable.
Package Includes:
The Spotlight Shopper Promise
AtSpotlight Shopper.we believe in the quality of our products. Herefore. we offer a30 Days Money Back Guaranteewith no questions asked! Hen you purchase from us. there isZERORiskfor you!
Congratulations!
You've found a hidden discount code! Use code "SPOT10" at checkout to claim an additional10% OFFyourENTIRE order!