"Absolutely love how easy these are to reach and pull down without dropping everything. They are effortless to assemble and install. I'm going to start giving them as gifts!!

"
- Bev. T
Verified Buyer
Remember when you stretch your arm to reach your things on the upper shelves? You fear all the clothes might fall. You step on astool only to find it unbalanced. can't imagine on it with both hands full. Are you trying to re-organize it again? Nah. enough of the awkward position. But you can't stand that messy shelf aren't you?
Presenting you EasyCaddy. a smart pull-down closet system that lets you easily and safelycontain items on the upper shelves and turn them into a well-organizedcloset. Asolution for those with a limitation and seniors to help them be independentin shelving things up.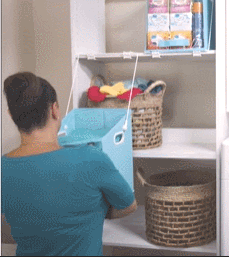 How EasyCaddy Will Change Your Life
KEEP YOU SAFE:EasyCaddy is designed with safety in mind. with a lift-assist bar to ease boxmovement up and down the shelves. Say goodbye to the wobbly. dangerous stools to help lift things.
NEAT UP SHELF: EasyCaddy keeps items in place with the box shape design. The clear front panel eases toseethings inside. Perfect for towels. beddings. and more.
EASY TO ASSEMBLE: EasyCaddyfeaturesa locking hook to ease the installation. Simply snap and clip EasyCaddyto the shelving. and the lift-assist will instantly work. and you are good to go.


Installation Guide
Snap and tighten the screws to the wood or wire shelving.
Pull down the box with the handle.
Load the box.
Put back the box on the shelf.
Available In 2 Sizes:
Large: 13.8 x 11.6 x 11.6 inches (41 x 33 x 33 cm)
Small: 10.6 x 9.4 x 9.4 inches (27 x 24 x 24 cm)
100% Satisfaction Guaranteed
We know that buying online can be stressful. That's why we offer youFULL REFUNDwithin a refund policy period. We stand behind everything we sell. andyour satisfaction is 100% guaranteed.We will doWHATEVER it takesto assist everyone as we highly value the satisfaction of our customers.
Clickthe 'BUY IT NOW'Button to get yours!