"I purchased the Lifesack Pro as backup. thinking that I would not need it during my backpacking trip. At night the actual temperature was colder than I expected. and my 20 sleeping bag was not enough to keep me warm. After shivering for a while. I decided to pull the Lifesack Pro out and opened it on top of my sleeping bag. I started to feel warm instantly. It was a relief to be able to sleep warm. Get one of these and forget about pricey sleeping bags that promise to work at low temperatures."
- Jim Hatfield
Verified Buyer
The possibility of anemergency outdoors causes the necessity to bring the right survival gear altogether. This results in carrying lots of gears and weighing the carrier down while also slowingthe movement overall. The thought of being outdoor naively unprepared without reliable gear poses a much greater risk. which leaves people anxious and takes the joy out of the trip. The temptation to overpack makes the packing itself can be overwhelming at times.
LifeSack Pro is an easy-to-carry survival bivouac sleeping bag that allows being prepared for wilderness emergencies without adding bulk to the overall load while taking on an outdoor adventure. The material attributes help keep warm. dry. and alive. ensuring peace of mind and confidence to take on every outdoor trip. This lightweight gear is more than reliable survival gear. it is a literal lifesaver when the unpredictable temperature drops outside.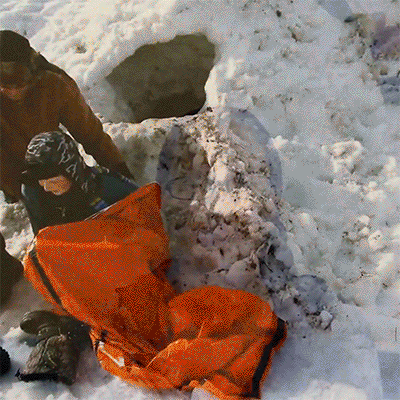 How LifeSack Pro Will Change Your Life
CONVENIENT TO CARRY:Designed with ultralight travel in mind. LifeSack Pro includes a drawstring pocket to fit the entire sack inside with only 2.8oz of weight. This palm hand size simplifies preparation and makes it ideal for slipping into the glove box. hiking pack. or bug-out bag.
BUILT FOR EMERGENCIES: With its high-visibility orange color. LifeSack Pro is easy to find inside the gear bag while also helping rescuers to find from miles away if a crisis occurs. The fabric's reflectivity facilitates safety and ensures peace of mind in a critical situation.
HEAVY DUTY: LifeSack Pro is made from thick biaxially-oriented polyethylene terephthalate fabric. also known as Mylar. with all-around sealed seams. The material qualities and construction produce a high-tensile. waterproof. and windproof sleeping bag while remaining compact.
MULTIFUNCTIONAL: The LifeSack Pro can be used as a survival emergency blanket. ground cover. sleeping bag liner. rain poncho. shelter. and more. The versatility makes it useful to tackle various unpredictable outdoor challenges.
We understand how overwhelming it may be if we are not 100% confident with our survival gear when traveling outdoors. It can be frustrating to carry a large package around with a sleeping bag inside. uncertain whether it will be adequate for extreme weather that could strike any time. which risks being helpless. and. if the inevitable happens. with serious injuries. According to the U.S. Bureau of Labor Statistics. in 2017. there were over 20.000 outdoor injuries related to cold and ice.
Fortunately. the LifeSack Pro enables outdoor enthusiasts to set out prepared for any unexpected situation. The lightweight design. versatility. an material durability allow traveling light while keeping warm in the harsh weather and overcoming any outdoor challenges. making it an essential addition to the bug-out bag. emergency tent shelter. or camping gear. Enjoy newfound confidence with a convenient-to-carry sleeping bag that is also dependable in an unforeseen situation.
LifeSack Pro Specification
Material:
BoPET (Biaxially-oriented polyethylene terephthalate) or Mylar
Weight: 80g
Warning: For emergency use only. do not replace your sleeping bag. Mylar is not fireproof. Keep away from heat and flames. Adult supervision is required due to strangulation and suffocation hazards.
The Spotlight Shopper Promise
AtSpotlight Shopper.we believe in the quality of our products. Therefore. we offer a30 Days Money Back Guaranteewith no questions asked! When you purchase from us. there isZERORiskfor you!
Congratulations!
You've found a hidden discount code! Use code "SPOT10" at checkout to claim an additional10% OFFyour ENTIRE order!