"For a tea lover like myself. this is a unique tea maker with a mix of tradition and creativity. I like the wooden handle design. it's simple. but it fits well in this tea set. Those floral patternsremind me of a mysterious and delicate eastern reverie. I'd recommend it to my friends. and I enjoy tea with my family."
Verified Buyer
Serenitea brings easterntea-making art into your home! Learn the traditional way of brewing tea with an exquisiteserving method. Every piece is meticulously handcrafted using techniques passed down through generations.The rotational feature makes it spillproof and delivers a delightful tea-time experience.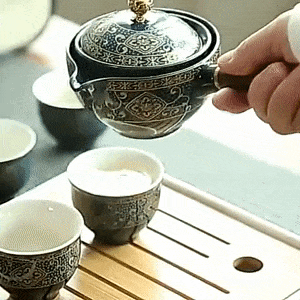 Why Serenitea Is For You
LEARN THE BREWINGART:Discovera more intuitive brewing to enjoy the ancient leisurely approach to the tea-making tradition. Extract the full flavor of the herbs and feel the passion in each sip.
FEEL THE TRADITION:Enjoy a cup of tea done in traditional Chinese fashion. Bring the magic of the far east into your home and experience the exotic eastern culture in every cup shared together.
SPILLPROOF:Serenitea utilizes a unique rotational feature. makes it spillproof.and prevents the possible mess in every pour using one hand only. This unique design provides adelightfultea-time experience.

COMPLETE GIFT SET:Serenitea comes with serving cups and a tray with a tray and bag designed with traveling and portability in mind. Thisbeautiful package makes it safe to store and a beautiful gift for any tea lover.
THE ULTIMATE CHOICE:While this makes an exceptionaltea time for your family. this set makes a unique gift anyone would love. Perfect for everyoccasion. any day of the year.
With Serenitea. tea time is an entirely different experience. The spillproof featuresensurea mess-free occasion. Adopting the look. feel. and culture of the far east. you will feel the taste of tradition with each sip of the tea. Enjoy the refined tea-making experience. with a captivating culture of the east that helps calm and tranquil the mind.
How To Use Serenitea
Package Include
(1) x 360 Rotation Tea Maker (190ml)
(4) x Serving Cups (60ml)
(1) x Serving Tray
(1) x Tote Bag
The Spotlight Shopper Promise
AtSpotlight Shopper.we believe in the quality of our products. Therefore. we offer a30 Days Money Back Guaranteewith no questions asked! When you purchase from us. there isZERORiskfor you!
Congratulations!
You've found a hidden discount code! Use code "SPOT10" at checkout to claim an additional10% OFFyourENTIRE order!