"Have to admit my expectations weren't high. but this toy is heaven for our 3-year-old. A pump. balloons. surprise launch. colors. quiet. no batteries. and even development of some physics intuition (We talk about rockets. astronauts. and space now) This thing is brilliant."
- Gloria Woods
Verified Buyer
In today's world. a battle between our children and us for screen time is common. While excessive screen time is detrimental to child development. many kids respond in anger and tantrums when we set them a limit.It is critical to swap out the screens with something fun and beneficial for the kids. Still.finding the right one can be frustrating.
The BalloonBlazeis a screen-free educational toy that requires players to race the car and fly rockets with an air-powered pump launcher. It gives kids tons of fun and effectively keeps them off the screen. Itprovides a learning experience that engages a child's curiosity for physics and further boosts development in many areas of their life.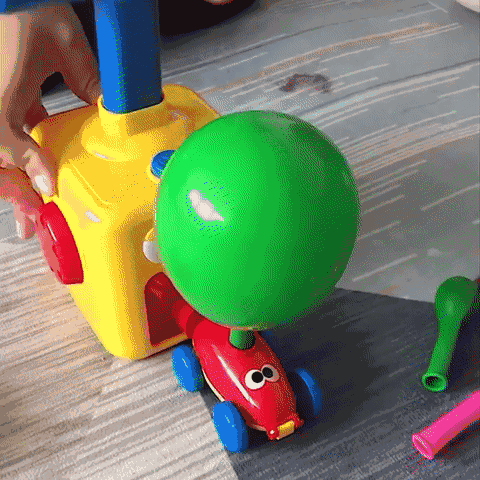 How BalloonBlaze Benefits Your Kids
BOOST DEVELOPMENT: Learning through play is anessential part of a child's development.BalloonBlaze provides kids with a hands-on science experiment and helps them discover physics principles. It also helps kidsimprove their motor skills and focus. triggering learning and growth.
FOSTER INTERACTION:Afamily that plays together stays together. With BalloonBlaze. players are encouraged to interact. making it a perfect family bonding activity. Players are racing the cars. watchingrockets fly. and having afun time together. Allows children to have a positive interaction with others whilestrengthening the family bond.
EASY& SAFE TO PLAY:Nothing worse than having to replace a toy's battery constantly.BalloonBlaze is air-powered. withno need for batteries or chargers to play. It's also easy to set up: attach the balloon to the car or flyer. pump it up. and launch. Designed with safety in mind. BalloonBlaze is createdwith rounded edges and non-toxic BPA-free plastic to prevent injuries.Durable enough to endure hours of playtime.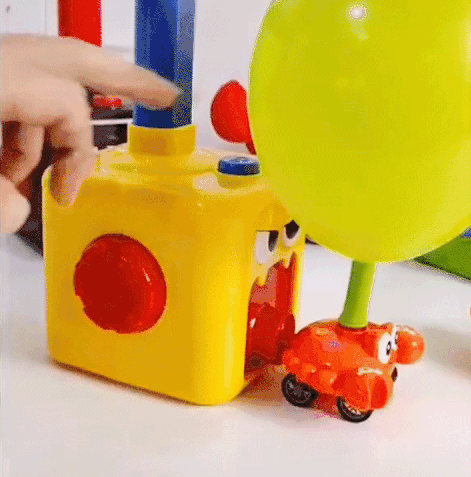 PROVIDE HOURS OF FUN:Balloons. rockets. race cars at once. BalloonBlaze guarantees hours of smiles and laughter! Helping cut back screen time andteaching kids independent playto entertain themselves. Ultimately. giving parents awell-deserved breakfor completing other tasks or simply a time alone.
We understandthe
helpless
feelingwhen the kids have screen time
tantrums
. The
guilt
every time we say yes to screens and the
frustration
of finding a suitable screen-swap toy can be
overwhelming

.
A recent studysuggests that kids with more daily screen time than recommended were more likely to act impulsively and make
poorer
decisions. yetresearchers found that 79% of 2-years-old are in that category.
With BalloonBlaze. take a sigh with relief to no longer facing screen time issues. BalloonBlaze inspires kids to engage in active play. letting kids take a break from smartphones and havefun.interactive play with others. Nowour children can enjoy useful screen-free playtime. It is much more than a toy; It's truly an investment for a child's future.
What Our Happy Customers Are Saying...
What's In The Box
1 X Balloon launch tower
2 X Powered Balloon Cars
1 XPowered Balloon Crab Car
1 XRocket
1 X Astronaut
1 XLaunch Tower
12 X Non-toxic Durable Balloons (in randomcolors)
WARNING: CHOKING HAZARD-Small parts. Not for children under 3 yrs. Children under 8 yrs can choke or suffocate on uninflated or broken balloons. and adult supervision is required. Keep uninflated balloons from children. Discard broken balloons at once.
The Spotlight Shopper Promise
At Spotlight Shopper. we believe in the quality of our products. Therefore. w offer a 30 Days Money Back Guarantee with no questions asked! When you purchase from us. there is ZERO Risk for you!
Congratulations!
You've found a hidden discount code! Use code "SPOT10" at checkout to claim an additional 10% OFF yourENTIRE order!