Keep Your Baby Cool This Summer!
Did you ever notice your baby getssweaty and fuzzy whenever you stroll around? It's uncomfortable for them and makes you have to leave early.
Introducing Octy. a mini fan for your baby's stroller. With Octy. your baby can stay calm and relax on your daily walks.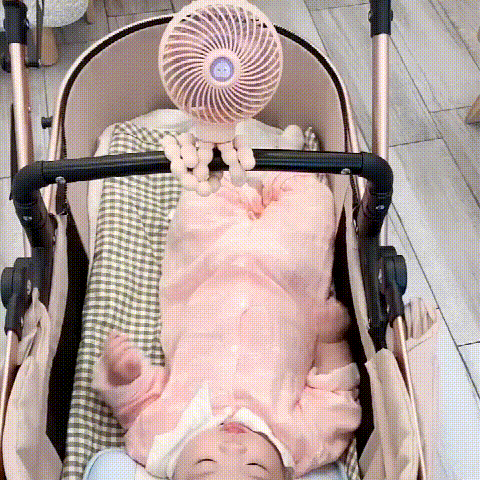 Flexible arm for easy attach
Versatile uses
USB Rechargeable
100% Safe & Quiet
Why Octy For You?
PORTABILITY -Octy is designed with portability in mind. While it is perfect for the outdoors. Octy is also helpful to provide comfort anytime. anywhere you need.
FLEXIBLE TRIPOD- The tripod arms make it able to attach to anything.Easily bendable for various use: handheld as a portable fan. stand as a desktop fan. hanging or winding as a wall fan. even as a phone holder. A lifesaver for a car seat to keep your baby cool on a ride.
3SPEED SETTINGS- This portable personal fan has low/medium/high 3 speeds settings to fit your need. Change it up by pressing the power button.
USB RECHARGEABLE- Rechargeable with USB and comes with a Type-C port which can be charged by computer. laptop. power bank. or car charger. 5 hours fully charged baby fan can last working for 4-14 hours (Depending onspeed).
Other Details
Available in 3 colors: green. girlish pink. beige. black
Power supply mode: USB
Noise: 51-70db
Rated voltage: 9V
Rated power: 4W
Applicable area: 20 square meters
The Spotlight Shopper Promise
AtSpotlight Shopper.we believe in the quality of our products. Therefore. we offer a30 Days Money Back Guaranteewith no questions asked! When you purchase from us. there isZERORiskfor you!
Congratulations!
You've found a hidden discount code! Use code "SPOT10" at checkout to claim an additional10% OFFyourENTIRE order!